4.76 - 7.44
Lakh
Ex-Showroom Price in New Delhi
Get On Road Price
Calculate EMI starting from 9,201
Special Offer – Maruti Suzuki Swift
Ex-Showrom Price in New Delhi:
4.76 – 7.44 Lakh
Get On Road Price
Assured Benefits worth 28,699 /-
Flat 25% Discount Voucher from Autoportal Car Care Services

i

Customer needs to provide an Electricity Socket
Prior intimation necessary for booking, rescheduling & cancellation

AutoPortal Exclusive Gift Pack worth Rs. 1000/-

i

Mobile Holder
Set of Blind Mirror
USB Port Charger Knob & chord
Set of Door Guard
Anti Skid Mat

Free 1 Year Road Side Assistance worth Rs. 1499/-

i

Applicable only on Maruti & Tata cars

Exclusive offer upto Rs.3500 on purchase at Vheelocity.in*

i

Flat 35% off on all accessories
Minimum shopping cart value Rs.2500 (max discount Rs.3500)
Validity 15 months

Exclusive offer upto Rs.1500 on shopping at Zoroy.com*

i

Flat 10% off on shopping of Rs.800 to Rs.1399.
Flat 15% on cart value above 1400, maximum discount upto Rs.1500.
Valid till 5th Jan, 2017.

Exclusive offer upto Rs.7500* on shopping at AutoForm*

i

Flat 15% off on all transactions
To avail offer contact Autoportal Customer Care 0124 4856800.

MakeMyTrip Discount Voucher worth Rs 12000/-*

i

Valid till 31-03-2017 on booking through MMT website & App only
Max discount of Rs 10000 on domestic & international holiday packages
70% instant discount on domestic hotels, upto Rs 2000
We Guarantee: Your email and phone number will not be sent to the dealer until you review the offer and choose to activate it.
Pros
Smooth and comfortable drive
Youthful styling
Higher resale values
Cons
Rear seats short on space
Limited boot capacity
Dark cabin can feel a bit drab
KeyFeatures
Maruti Suzuki Swift
Key Features
Automatic Climate Control

Automatic climate control helps you relax in scorching heat while the AC adjusts cooling in the cabin, based on your preference.

Sporty Seats

Sporty seats are made for performance oriented people who like to stick to the seats while fast cornering.

Steering Mounted Control

steering-wheel-mounted audio controls and an integrated Bluetooth hands-free phone system.
Specifications
Maruti Suzuki Swift
Price List & Specifications
Mileage
i
Fuel Economy claimed by the manufacturer, generally quoted in KMPL (Kilometres Per Litre) format.
Ex-Showroom Price
i
It's the price of an automobile exclusive of duties, taxes, depot charges, and insurance. To get on-road price, click on the 'Get Onroad Price' button.
Trans­mission
i
Fommon term 'Gear System', essentially a mechanism that transmits power from the engine to the drive shaft.
Displace­ment
i
It is the maximum capacity of an engine by volume. Usually quoted in 'CC' or 'Cubic Capacity' (1000cc = 1 Litre).
Colors
i
The various body colour options that are available in this model.
Key features
i
The specific features that are the highlights of this model and make it stand out.
You can compare up to 4 cars at a time. You may uncheck one of your current selections to add this car:
Exterior
Maruti Suzuki Swift
Exterior
The next generation Maruti Swift shares great resemblance with its predecessor, but the new design alterations have added a sporty charm to the vehicle. With its curvy and elegant
body, the Swift is definitely one of the most beautiful cars ever seen in its segment. The new Swift looks bigger with extended dimensions, stylish front grill, large headlamps, ORVMs with integrated blinkers, chrome-finished logo and fog lamps. The coloured door handles, thin window glasses, mirror cowls and alloy wheels further enhance its aggressive look. Its rear looks quite refreshing with body-colored bumper and chic LED tail lights. Maruti Swift has all the crunchy features that have made it a game changer in the Indian automotive industry. The mid variants of Maruti Swift are available with 14-inch steel wheels, whereas its top variants are equipped with 15-inch steel wheels, adding extra elegance to this premium hatchback. With an aim to offer comfortable and sporty drive, the new Maruti Swift comes with puncture-resistant tubeless tyres. The 165/ 80 R14 and 185/ 65 R15 are the standard tyre sizes for 14- and 15-inch steel wheels, respectively. The tyres are highly efficient and offer better grip over the rough Indian roads.
Expand
Features may be different from
variant to variant
Maruti Suzuki Swift 360° view
Click
to view
in 360°
Click
to view
in 360°
Click
to view
in 360°
Click
to view
in 360°
Click
to view
in 360°
Click
to view
in 360°
Familiar design
The new Swift looks bigger with extended dimensions. The colored door handles, thin window glasses, and alloy wheels further enhance its aggressive look.
Teardrop design
Maruti Suzuki Swift has one of the most recognizable headlamp design thanks to the elongated teardrop head light design that makes it look good.
Integrated indicators
The outside rear view mirrors can be closed or opened and adjusted by pressing the buttons inside the cabin and comes with integrated side indicators.
Braking Assist Features
The tyres of the Swift houses safety features such as the braking assist, ABS (Anti-lock braking System) and powerful brakes.
Ageless design
The Maruti Suzuki Swift is here for some time now and no matter how many times you see the car, it looks as young as ever.
Interior
Maruti Suzuki Swift
Interior
Get inside the car, and you will notice rich upholstery and all-black interiors. With an extended cabin area, there is a good knee space for rear passengers to make long drives enj
oyable. However, the boot space remains unchanged and may bother you if you are looking for more luggage area. The black styling gives it a stylish and sophisticated visual appeal. The elegant silver-painted door garnish, door trim fabric and door opener add more to the car's appeal. The other features include digital display trip meter, rich dashboard with integrated cup holder and waterfall console, chromed door handles, LCD display, speedometer cluster, automatic climate control, single touch lane indicator, sun visor, anti-glare inside rear view mirror, and more. You can enjoy your favorite tracks while driving the car with a six-speaker audio system, which also supports USB. The new Maruti Swift comes with an improved NVH level, which has made it an even more fun-to-drive car. The integrated stereo system with six high-quality speakers, steering mounted audio controls and three-level volume controls give pleasure while driving the all-new Maruti Suzuki Swift. Its audio controls illuminate during night to provide you better visibility. You will find many other features, like electrically-adjustable ORMVs. However, all these features come with the top-of-the-line trim only.
Expand
Click
to view
in 360°
360° view
Wondering how the insides of the Maruti Suzuki Swift look like? Get a tour of this car with the 360° degree view of the interior. Enjoy a lifelike view of the interior design of this car. Check out how the manufacturer has utilized the space and how spacious the legroom as well as the headroom are. Get a feel of the quality of the material used and see how the dashboard looks like. Check AC vents, infotainment system and other utility equipment on offer. See if the car offers steering-mounted controls. In a nutshell, this 360° degree interior view walks you through the inside of Maruti Suzuki Swift. Click anywhere on the image and drag it to the left and right to rotate. Zoooom to enlarge the view!
Plush seats
The Maruti Suzuki Swift seats are the best in the industry and are meant both for performance oriented people and comfortable riding.
Sporty cabin
The intensive use of black makes the Maruti Suzuki cabin not only stylish and sophisticated, but also lends a sporty drama to it.
Automatic climate control
Automatic climate control helps you relax in the scorching heat while the AC adjusts cooling in the cabin, based on your preference.
TFT display
Swift instrument cluster is a combination of multi-media digital display with analog dials to show RPM and speed along with fuel consumption.
Great handling
Unarguably the best handling car in India, the Swift is known for its dynamics and compels you to test the vehicle's abilities to its extreme.
Maruti Suzuki Swift Sounds
Test drive
Maruti Suzuki Swift
Test Drive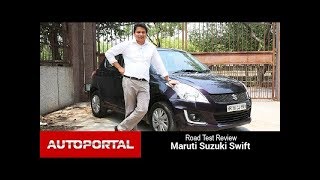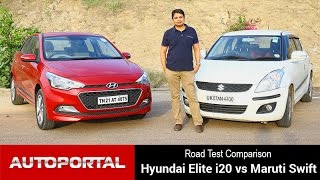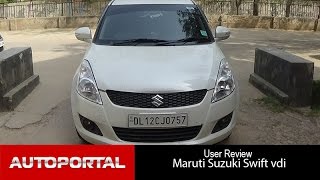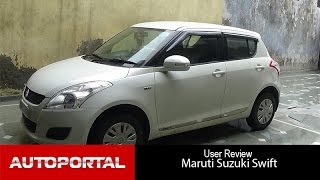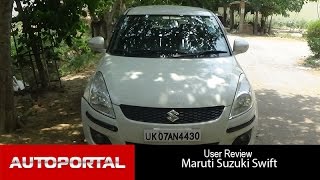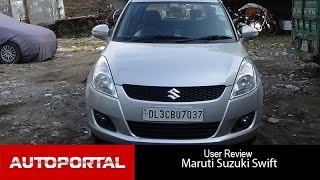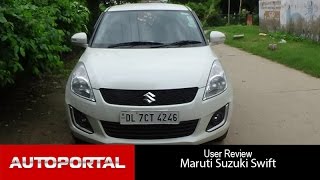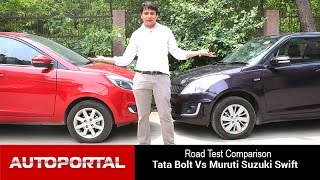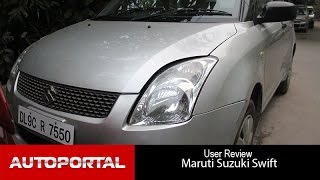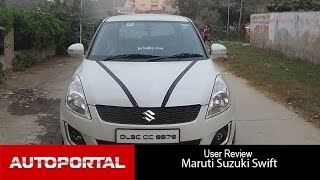 Maruti Suzuki Swift Assured benefits
When buying this car we will get you this benefits.
1700

Flat 25% Discount Voucher from Autoportal Car Care Services

i

Customer needs to provide an Electricity Socket
Prior intimation necessary for booking, rescheduling & cancellation

1000

AutoPortal Exclusive Gift Pack worth Rs. 1000/-

i

Mobile Holder
Set of Blind Mirror
USB Port Charger Knob & chord
Set of Door Guard
Anti Skid Mat

1499

Free 1 Year Road Side Assistance worth Rs. 1499/-

i

Applicable only on Maruti & Tata cars
3500
Exclusive offer upto Rs.3500 on purchase at Vheelocity.in*
i
Flat 35% off on all accessories
Minimum shopping cart value Rs.2500 (max discount Rs.3500)
Validity 15 months
1500
Exclusive offer upto Rs.1500 on shopping at Zoroy.com*
i
Flat 10% off on shopping of Rs.800 to Rs.1399.
Flat 15% on cart value above 1400, maximum discount upto Rs.1500.
Valid till 5th Jan, 2017.
7500
Exclusive offer upto Rs.7500 on shopping at AutoForm*
i
Flat 15% off on all transactions
To avail offer contact Autoportal Customer Care 0124 4856800.
12000
MakeMyTrip Discount Voucher worth Rs 12000/-*
i
Valid till 31-03-2017 on booking through MMT website & App only
Max discount of Rs 10000 on domestic & international holiday packages
70% instant discount on domestic hotels, upto Rs 2000
How to Buy

Maruti Suzuki Swift
Get onroad price

Get the exact price that you'll pay: registration tax, insurance and state tax.

Get On Road Price Calculate EMI starting
from

9,201

Book
a test drive

Will come to you or the dealer you come to it. Avtoprotal — an independent company, our consultants not deceive. If your needs better experience on Ford, we say — Ford. Instead of a dealer would sell what is left over.

Book a Test Drive

Request
for booking

Auto loan will help with registration, to provide an extended warranty, insurance and special of benefits. Our insurance is 5% cheaper Due to close cooperation.

Request for Booking
Reviews
Maruti Suzuki Swift
Reviews
I have swift zxi car.i don't, like it
Maruti is a fraud company. Swift car engine duplicate engine. Totally fake company at the same time dappa car
Panneer srlvam
Swift osm
Unlike the LXI variant of petrol version which was too basic of a premium car for the image created by Swift, this variant is loaded with music system with speed sensitive auto volume, four speakers and manual ...
Read more
Nitish phoughat
Best Hatchback
The Swift diesel is one of the highly successful launches in India the evergreen demand for this in used car segment is the sure indication of the same. Coming on to the LDi variant, it's the basic variant with...
Read more
Sunny Malhotra
Best Hatchback
I appreciate your services for assisting me in purchasing my car. I saved a lot on the deal. Thank you for the amazing offers. I will definitely advise my friends to contact Autoportal for their car buying need...
Read more
Sunil Gandhi
Swift is the best Car
I bought a 2015 Maruti Suzuki car from Autoportal. I was surprised when I received the offers very soon. I really thank your team and management for all the co-operation at every step. I will definitely make my...
Read more
Abdul Rauf Sayed
better go with VW POLO
waste swift no safety.. go for polo best car but in polo only one thing is disadvantage it is that low ground clearance but it can be used for offroad like climbing hill..my father tried..
sanjay kiran
All reviews
Write own review
Write A Review For Maruti Suzuki Swift
Details
Maruti Suzuki Swift
Details
Maruti Suzuki Swift Overview
Ever since its launch in 2005, Maruti Suzuki Swift has been ruling Indian roads. Evolved with fine designing and engineering, it has redefined the dynamics of the Indian automotive
industry. It received some major changes in 2007, which further helped the car perform well in terms of sales. In 2011, this premium hatchback went through some ground breaking modifications, reflecting the comprehensive automotive research work of the engineering team. This time, the objective was to work on the loopholes of the previous version and cater to the new demand of the growing Indian automotive market.
On grounds of performance, mileage and looks, the all-new Maruti Suzuki Swift is definitely a better car than its predecessor. The extended chassis has helped the car get more cabin space. With increased width of 5 mm, the Swift has got a premium appeal. The car's interior is highly inspired by its sibling Kizaski – a luxury sedan. The unchanged boot space and material quality are two areas where we expected the car to have gotten better. Although both the engines - 1.2-litre K-Series petrol and 1.3-litre mulijet diesel, have remained the same, better aerodynamics and slightly-tuned engines have made it an even more responsive and sporty vehicle to drive. While the 1.2-litre petrol mill belts out the maximum power output of 86 bhp, the 1.3-litre diesel engine produces 74 bhp. With improved fuel efficiency of 18.6 kmpl, the new Swift is now even more economical.
In terms of handling and ride quality, the new Swift is miles ahead due to its competency to deal with the bumpy Indian roads quite well. Maruti Suzuki Swift is available in both petrol and diesel versions in three trim levels - L, V and Z.
Expand
Maruti Suzuki Swift Engine & Transmission
Coming in both petrol and diesel engine options, the Swift has total six variants: Petrol - LXI, VXI and ZXI Deisel - LDI, VDI and ZDI The petrol version of the car derives i
s its power from the 1.2-litre KB12 unit that has a displacement capacity of 1197 cc, while the Swift diesel has the proven and potent 1.3-litre multijet motor under its hood. While the petrol mill has an MPFI (Multi Point Fuel Injection) system, the diesel engine has a 5-step Multi Injection CRDi system.
When it comes to performance, both the units are powerful and responsive. With a 16-valve DOHC (Double Over Head Camshaft) valve train and four-cylinder set-up, the petrol mill churns out a maximum power output of 85.8 bhp and 114 Nm of peak torque, making it one of the most powerful engines in its segment. The oil burner 1.3-litre diesel unit too is equally impressive with 74 bhp and 190 Nm. Despite being a hatchback, the Swift is one of the few vehicles in its segment that is as good for highway driving as it is for driving in the city and that has been the reason behind its popularity everywhere.
Both the 1.2-litre K-series petrol and Fiat-sourced 1.3-litre multijet diesel versions won't disappoint you in this department. You will love throttling them. Having equipped with a five-speed manual transmission, the Swift petrol touches the 0 to 100 kmph mark in about 12 seconds. That is the case with the Swift dieselas well. Even it does the same in about 12 seconds at a top speed of 150 kmph. Despite having much better ride quality than most of its competitors, the Swift isn't as 'swift' as its rival Hyundai i20, especially till the third gear. But as soon as one enters the fourth gear, it gives you a sense of stability and sportiness that you would just like to rev it hard.
As mentioned above, the Swift is available in both petrol and diesel engine options. The 1.2-litre K-Series VVT petrol mill coupled to a five-speed manual transmission pumps out 85.6 bhp at 6000 rpm and 114 Nm of peak torque at 4000 rpm. The 1.3-litre DDiS diesel engine, on the other hand, mated to a five-speed manual and turbocharger, belts out 74 bhp at 4000 rpm and 190 Nm at 2000 rpm. So in terms of power, both the engines are impressive and in fact better than most of their competitors. What impresses more is the improved NVH (Noise, Vibration and Harshness) level; the designers have worked really well on insulation that one doesn't feel any noise inside the cabin.
Expand
Maruti Suzuki Swift Braking and Safety
When it comes to safety, the new Maruti Swift is ahead to its predecessor; however, competitors like Hyundai i20 are still more feature rich. The safety features offered with the c
e car are dual SRS front airbags, braking assist features, ABS (Anti-lock braking System), computerized anti-theft system, automatic lock system, front and rear fog lamps, highly mounted stop lamps, side impact beams, front and rear ELR seat belts, child lock, double horn, etc. However, most of the advanced ones are only available in top-end variants.
Expand
Maruti Suzuki Swift Performance and Handling
The new Maruti Swift leaves a positive impression with its sharp handling and powerful braking system. It offers superb grip and stability till 130 kmph. However, it still needs im
improvement on edges. In terms of handling, Maruti Swift is a gem of a vehicle with a sporty character. Despite having well-proportioned dimensions, the Swift has a body roll around the corners, though it remains stable and flat, giving you a great grip on the road.
The advanced ABS (Anti Lock Braking System) ensures safer drives by preventing the wheels from locking up and skidding during panic braking situations. The front and rear brakes offered in the car are ventilated disc brakes and drum brakes, respectively.
Expand
Maruti Suzuki Swift Mileage
Good fuel economy is one of the virtues that define a Maruti Suzuki car and the case is no different with the Swift. Both the petrol- and diesel-powered models of the car are highl
with the Swift. Both the petrol- and diesel-powered models of the car are highly frugal.
While the petrol-engined Swift returns an impressive mileage of around 15-16 kmpl in city, driving on highways takes it upto 18-19 kmpl. The diesel Swift delivers an impressive 18-19 kmpl in city and around 22-23 kmpl on highway. The ARAI-certified mileage figures for both the versions of Swift are 18.6 kmpl and 22.9 kmpl, respectively.
Expand
Maruti Suzuki Swift Competitors
Maruti Swift vs Hyundai i20 India's best-selling premium hatchback Maruti Swift's new version looks very sporty and stylish without losing the conventional essence. On the other
ry sporty and stylish without losing the conventional essence. On the other side, based on the company's patented fluidic sculpture, the Hyundai i20 proves to be a tough competitor of the Swift. The interiors of both the hatchbacks are well equipped with various comfort and safety features. With extended wheelbase and dimensions, the Swift is more spacious. But in terms of plastic quality, Hyundai i20 leads the race. Both the cars are available in two engine options – petrol and diesel. The revv-happy petrol engine of Swift puts an impressive power output. Also, the 1.3-litre multijet diesel unit of the Swift is a gem of an engine, though on papers i20's 1.4-litre CRDi diesel proves to be more powerful. But when it comes to ride quality, stability and handling, the Swift steals the show. The robust suspension and braking system of the Maruti Swift enhance the handling and drivability. The NVH refinement levels and engine performance are pretty impressive. On the other hand, the Hyundai i20 delivers a decent ride quality at low speed, but its suspension system fails to cope up with adverse driving situations. Due to light steering wheel and hard braking, the car shows nervousness at high speeds. In terms of fuel efficiency too, there's not much difference between the two. While the Swift diesel offers a mileage of 22.9 kmpl on highways, the Hyundai i20 offers a mileage of 21.9 kmpl.
Expand
Maruti Suzuki Swift What do we think about
Maruti Suzuki Swift is one of the very few cars available in its segment that are good at both looks and ride quality. It's in fact superior in handling, ride quality and high spee
d stability than the cars priced even higher than this. Interior quality is one area that still needs a lot of improvement.
Expand
Tell your friends about the car
And subscribe to car reviews and comparisons on our Youtube channel
Tweet
Recently Viewed Cars
4.76 – 7.44 Lakh
Car Leasing
Request for Booking - Maruti Suzuki Swift
Trusted by our regular customers
Request for Booking - Maruti Suzuki Swift