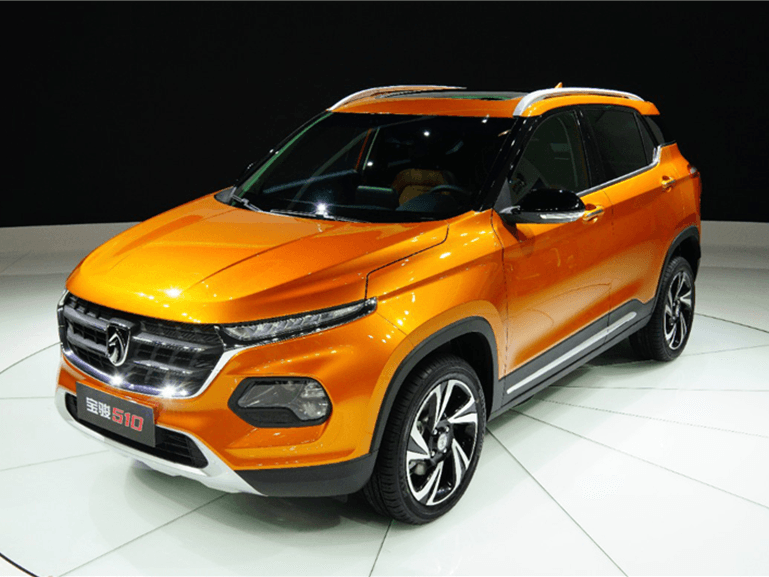 Expected Price:
 11.00 – 12.00
Lakh
Expected Launch Date:  Jan 2020
MG Baojun 510 Preview
After the success of the Hector, MG may release their second vehicle in India. The Baojun 510 is a compact SUV which may compete with Ford Ecosport, Tata Nexon. It will take a lot of styling cues from the Hector, with the DRL and the indicator being placed above the headlamps. The headlamps will also feature LED in some variants. The side profile will consist of body-coloured door handles and ORVMs with alloy wheels. Baojun 510 resembles the Hyundai Creta in terms of the size. There may be front and rear faux skid plates present for a more rugged look. The rear house a set of LED taillamps. The interiors are expected to come with good quality plastics and some soft-touch materials to enhance the cabin experience. The interior may also feature dual-tone layout, touchscreen infotainment system with Android Auto and Apple CarPlay. There may be also some connected car features that can remotely locate the car, start/stop the engine etc.
*All information provided for this model is for reference only. Actual specifications may vary at the time of the car launch
Customer Questions and Answers
Customer Questions and Answers (0)
Do you have a question about MG Baojun 510? Ask your question and get expert answers from our inhouse team of car-buffs as well as inputs from thousands of Autoportal readership!
There are no discussions on
MG Baojun 510 yet.
You have a Question? Be the first one to ask a question